Auction Details:
Collective Monthly 'Online Only' Auction Of Agricultural, Farm, Garage and
Industrial Machinery, HGV's, Small & Large Plant, Tools and Boats Etc Etc
Viewing: Tuesday 20th & Wednesday 21st August 1000 - 1600
Bidding closes online from 11.00 am Thursday 22nd August
Online Only Auction of Small & Large Plant, HGV's, Tools, Farm & Groundcare Machinery
900+ Lots Expected
Expected Entries To Include
Direct Council & Utility Entries:
4 x Iveco 18 Tonne Tipper/Gritters (2010), (Postponed), 4 x Kubota F3680 Outfront Mowers 2013, 6 x Drinking Water Bowsers, Selection of Stihl Brushcutters, Disc Cutters & Blowers, Wacker Breaker, Clipper CS451 Road Saw, Wacker Plate Muller Hydraulic Breaker to fit 39/40 Tonne Machine (2015).
Direct From Speedy & GAP:
Access Equipment Including Ladders & Staging Boards, UGO Access Towers, Scaffold Sections. SDMO 250 KVA Generator 2012 c/w John Deere 6cyl Engine, John Deere 6cyl Engined Generator 1/3ph, MOSA GE55 Generator c/w Perkins 4cyl Engine, Atlas Copco XAS 136DD Air Compressor, Ingersol Rand 7/31E Compressor Generator, Terex MBR71 Pedestrian Rollers, Main Diesel Bowsers, Pike Traffc Light Trailer, Belle Site Mixers, Generators, Dsl Bowsers, Washer Bowsers, Indespension Plant Trailers,
Plant & Groundcare Equipment & Farm Machinery:
2 x Groundhog Welfare Units, John Deere Gator (09), Thwaites 3 Tonne Dumper, Ifor Williams HB506 Horse Box, Massey Ferguson 2210 Tractor c/w Loader (04, 3200hrs), CAT DP40K Forklift, Samuk Gas Forklift, Rioned & GKU Jetters, John Deere Gator, Breaker To Fit 20 Tonne Machine, Crane & Tipping Skips, Husqvarna, Cub Cadet & Honda Ride On Mowers, Excavator Buckets, Nuffield Three Loader Tractor, John Deere 540 Round Baler, Block Grabs, Hoddi Conveyor, 6 Portable toilets, OREC Bank Mower, Off Road Vehicle c/w Rover V8 Engine, New Holland MC35 Mower 2006, Granite Gateposts, Rollers & Granite Millstone.

Also: Wilson Flyer 17ft Fast Fisher Boat c/w 2014 40hp 4 stroke Mariner Outboard, Sat Nav, Fish Finder, Ship to Shore Radio, Braked Trailer c/w Hub Wash.
Small Plant & Sundries:
Large entry of Bosch & Makita Power Tools. Hilti TE3000AVR Breaker, Long Reach Hedge Trimmers & Chainsaws, Garden Tools, Stephill & Pramac Generators, Large Qnty of Candle Holders & Tea Lights, Step Ladder, Golf Ball Collector, Stihl Top Handled Chainsaw, Cordless Impact Drivers, Street Lamp, Garden Chairs etc.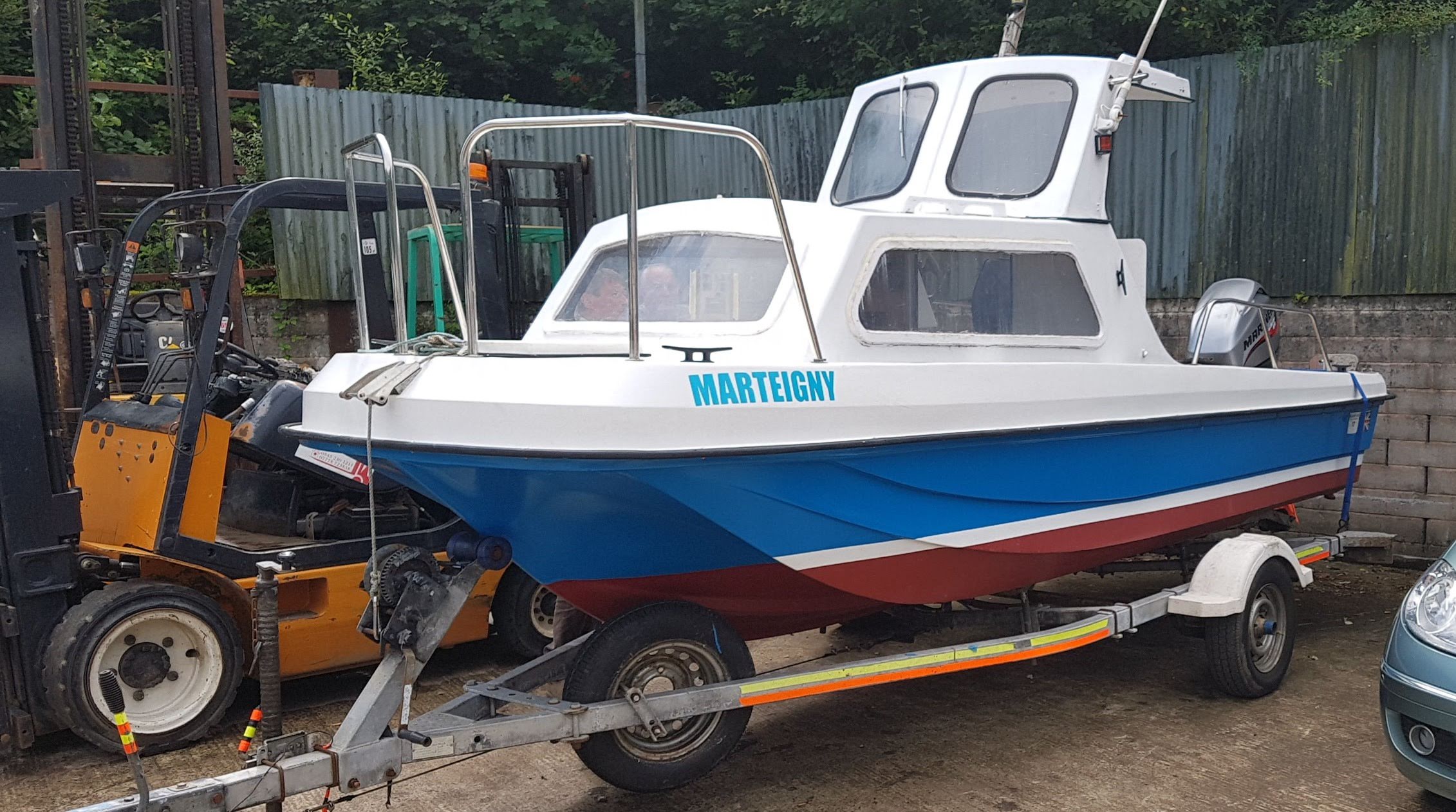 Vehicles:
2012 Mercedes Sprinter 313 cdI 2143cc
2008 Mercedes Sprinter Cherry Picker
2008 DAF CF Grab Lorry (357k)
2003 DAF 55.180 Fitted with Johnston Sweeper 2003
2000 Isuzu NPR70 Flat Bed (271k km)
Further Entries Invited & Anticipated
All Entries Provisional And Subject To Withdrawal At Any Time.
Bid via bidspotter.co.uk or i-bidder.com