Auction Details:
Online Only Auction of Contractors Plant, HGV's, Tools, Farm & Groundcare Machinery
---
Update: Husseys Auction Centre is OPEN - but appointments are recommended.
In order to control and monitor numbers on site, we would request that customers call in advance to request a collection, viewing or delivery appointment. Please call us on 01392 425481. Your cooperation is appreciated.
---
1200+ Lots Expected
View Gallery

Bid Now! - bidspotter.co.uk
or
Bid Now! - i-bidder.com
---
Expected Entries To Include
Direct From GAP & Local Councils:
Caterpillar AP600 D Paver (13), Ammann PW2700 Paver (61), Bomag BW120ADS Roller (63), 2 x Cat CB25B Rollers (64), Ladders, Staging Boards, Access Towers, 6 KVA Gen Set, Wacker & Clipper Road Saws, Indespension 2.5, 2.7 & 3.5 Ton Plant Trailers,JCB HDT5 Track Barrow 2018, Terex MBR71 Pedestrian Roller, CAT4 & Gennys, Various Power Tools.

Plant, Diggers, Vintage Tractors & Machinery:
Kubota KX61-3 Excavator 2016 2250hrs c/w 3 Buckets,Kubota K008 Micro Digger 2017, Kubota U48 Digger 2015, JCB 15c-1 Mini Digger 2018 900hrs, Hitachi EX60-3 c/w 3 Buckets, Takeuchi TB025 Digger, As New 1 Ton Mini Digger 2021 52hrs, 2x JCB 1 Ton Hi Lift Dumpers 2016 (Both Under 1000 hrs) , New Holland 4wd Loader Tractor (further details soon), CAT Telehandler, Ausa 1 Ton Hi Tip Dumper 2014, Case 580G 4x4 Wheeled Digger, JCB Farm Special Telehandler, Ford Skidsteer Loader c.w Bucket & Dung Grab, Still 1.5 Ton Diesel Forklift, Cat 3.5 Ton Diesel Forklift, JCB Workmax UTV 2012, Kawasaki Mule 2012, Farr 400 UTV 2012, 2x Timberwold 250 DH Turbo Wood Chippers, Vermeer Wood Chipper, Tar Sprayer, Twin & Tri Axle Brian James Tilt Bed Car Transporter Trailers, 16' Ifor Williams Dropside Trailer c/w Ramps, Summer 2124 Hoist C/W Stacker, 7 Telehandler Buckets, Kawasaki Quad Bike, Man Backets, Countax Outfront Ride On Mower, Cub Cadet Zero Turn Mower, Groundhog GP360 Fast Tow Welfare Unit, 3x Plug & Go Welfare Cabins, Equi Trek Horse Box, Vintage 1 Ton Dumper (Petter Engine), Post Banger, Traffic Lights, Engine Crane, Widenmann PTO Paddock Vacuum, Hydraulic Metal Shear, Western & Brendon Washer & Water Bowsers, Herras Barriers & Fence Panels, Large Selection Of Digger Buckets, GRP & Alloy Scaffold Towers & Sections, John Deere 5 Gang Mowers, Mini Digger Breaker, Childs Quad,
Vintage Tractors: Ford 7600 2wd Tractor, Leyland 154 2wd Tractor, Massey Ferguson 135 Multi Power, Case Model C, Fordson N c/w V5, 1982 Massey Ferguson 250 4wd Tractor, Fordson Major, Nuffield M4 Petrol/TVO (restored), Allis Chalmers Model B (bow Axle),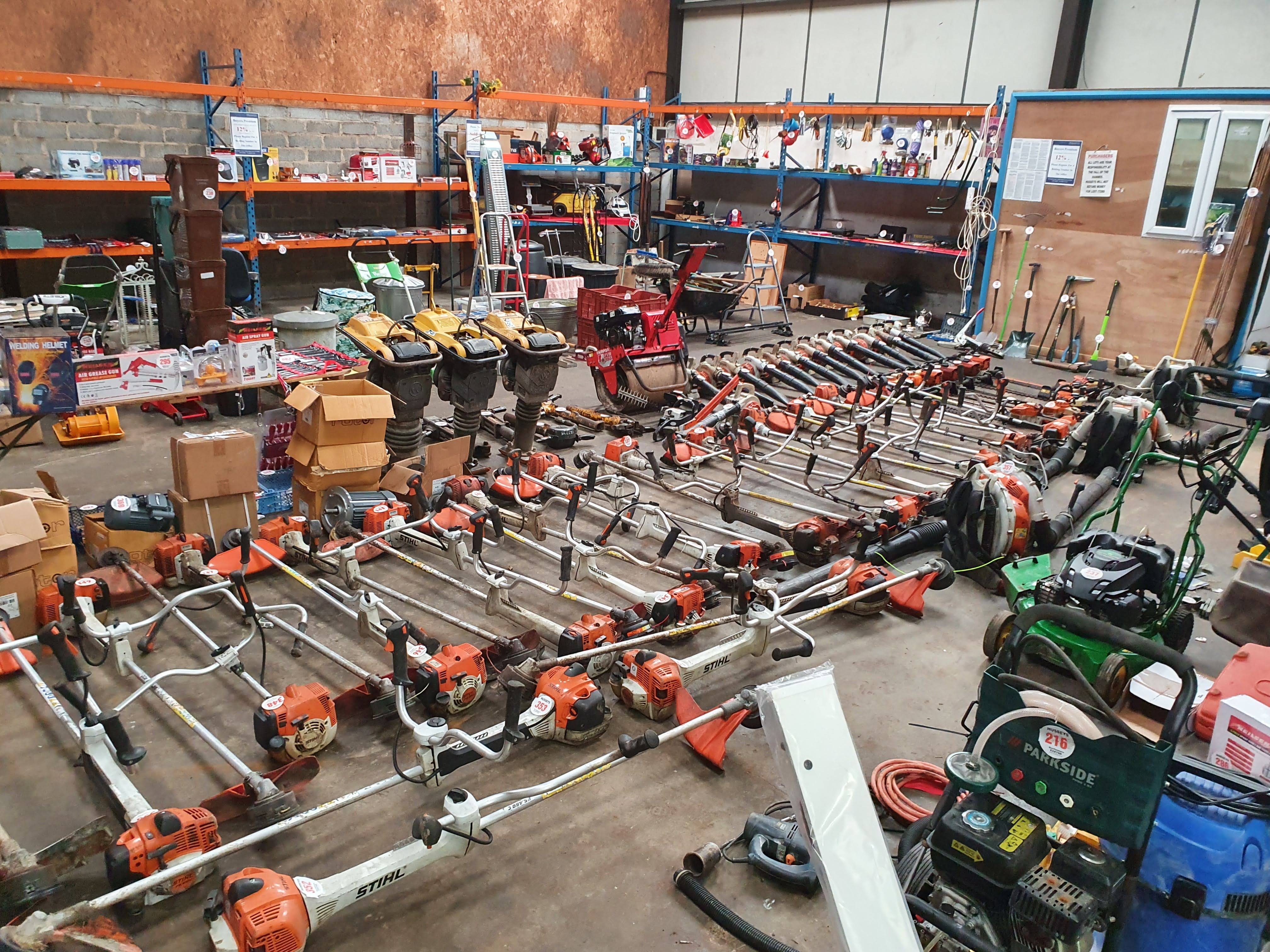 Agriculture & Groundcare:
Further Details Soon...
Vehicles:
17/66 Ford Transit Connect 200 TRND - 998cc 5dr Van (White, 128k)
15/64 Peugeot Bipper Professional HDI - 1248cc 5dr Van (White, 87k)꙳
13/63 Nissan Cabstar 35.14 S/C SWB - 2488cc 2dr Tipper (White, 123k)꙳
13/62 Iveco Eurocargo (MY 2008) - 3920cc 2dr Tipper (White)
11/11 Mercedes-Benz Sprinter 313 CDI - 2143cc 5dr Van (White)꙳
08/58 Iveco Eurocargo ML75E16 - 3920cc 2dr Flat Bed (White, 326k)
04/53 Iveco-Ford - 3920cc 2dr Flat Bed (White, 178k)
02/52 Daihatsu Hi-Jet 1300 16V EFI - 1296cc Pickup (White)
Further Details Soon...

View these vehicles on i-bidder.com
Offsite Lots:
Fordson Major Tractor Puller, Tennant Hawk Sweeper (2001)
Further Details Soon...
Contents of an MOT Workshop:
Located in Plymouth


Further Details Soon...
---
Note: In Auction 12/01/22: Direct from Cormac:
16/66 Peugeot Boxer 333 L1H1 HDI - 2198cc 5dr Minibus (Silver)꙳
15/64 Peugeot Boxer 333 L1H1 HDI - 2198cc 5dr Minibus (Blue, 9k)
12/62 Peugeot Partner 850 SE L1 ATV HDI - 1560cc 5dr Van (White, 127k)꙳
1 X Mercedes Van

---
Filter Search
Cormac Solution Items
GAP Plant Items
Excavators
Tractors
Generators
Trailers
Garden & Outdoor
Further Entries Invited & Anticipated
All Entries Provisional And Subject To Withdrawal At Any Time.
Unsure how online auctions work? Click here: