Auction Details:
Online Only Auction of Contractors Plant, HGV's, Tools, Farm & Groundcare Machinery
---
1200+ Lots Expected
View Gallery

Bid Now! - bidspotter.co.uk
or
Bid Now! - i-bidder.com
---
Expected Entries To Include
Direct From GAP & Local Councils:
Eurojectors 38 Ton Trailer 2005, Wessex T430D Hedge Trimmer (Never Used), Twose Hedge Trimmer c/w Finger Bar & Flail Head, Container/Office, Pazzolato Chipper 2007, Jenson A540 Wood Chipper, Timberwolf Wood Chipper, CAT AP6000D Paver 2013, Kubota F3980 c/w Trimax Outfront Flail 2019 400hrs, John Deere 1580 Outfront Mower 2016 2200hrs, Jupiter 5 Series Cylinder Grinder, Amazone Groundsman PTO Sweeper/Collector, Mower Deck For F Series Kubota, Muthing Flail Mower, Hydraulic Flail Head, Herras Fence Panels, Belle Plate Compactors, Clipper road & Masonary Saws, Power Tools Etc
Quick Lists:

Plant, Diggers, Vintage Tractors & Machinery:
JCB 550-80 Wastemaster Telehandler 2018, Thwaites 6 Ton Dumper, Case 580Sk Turbo Wheeled Digger 95, Massey Ferguson 550 Tractor c/w Loader, CAT TH62 AG Telehandler, Iseki Cabbed 325 Compact Tractor, Lamborghini 350 Runner Compact Tractor (40k box), 2021 Micro Digger 52hrs, Takeuchi TB025 Digger, John Deere Battery Gator, Farr UTV 2012, Iseki SXG15 Ride On Mower c/w Collector, Gull Hi Tip Tipping Trailer, Snorkelift Cherry Picker, Ingersol Rand P101 Road Compressor, Hydraulic Mini Digger Breaker, 2 Ton Dumper, Vintage Dumper, Tennant Sweeper, Groundhog GP360 Welfare Unit, Kubota Bullace Compact Tractor, Viking Ride On Mower, Wessex Twin Axle Transporter Trailer, Brian James Trailer, Tri Axle Flatbed Trailer c/w Ramps, Indespension & Ifor Williams Plant Trailers, Indespension Single Axle Trailer, Petrol Track Barrow 2020,2018 Trailer Engineering Diesel Washer Bowser, Club Car Petrol Golf Cart, Pedestrian Rollers, Belle Site Mixers, 3 Helicopter Winches, Wadkin Spindle Moulder, Belle Masonary Saws, Compair & Ingersol Rand Road Compressors, Picton Boat, 4.8 Meter Inflatable Rib, Pike Traffic Light Trailers, Wire Rope Lifting & Towing Tackle, Paddock Vacuum, Main Water Bowser, Brendon Washer Bowser, HD Headstock & Pallet Forks Ideal For Liftng Containers Etc, HGV Cable Drum Trailer With Air Brakes, Stephill 6KVA Generators, 4 & 5 Ft Grading Buckets, Euro Ground Mats, 8x4Ft Steel Road Plates, Crowd Control Hurdles & Barriers, Fertiliser Spreader, JCB & Belle Hydraulic Breaker Packs, Childs Quad, Wacker Plates, Alloy Access Units, Camon, Honda & BCS Roatavators, Stack Of Timber, Vintage Saw Bench, 8Ft Field Roller, Forklift Tipping Skip, Scissor Lifts, Oil Tanks, Honda Mowers, Wheel Chair Access Ramps, IBC Tanks, Trimax Flail Mower Off F Series Kubota, Drain Inspection Camera, Pr Of 6ft Pallet Tines, Stephill 6KVA Generators, Stihl Post Hole Borer, Wheeled Tool Chests c.w Tools, Approx 850 Lots Of Small Tools, Tarmac Gear, Garden Machinery & Vast Array Of Accoutrements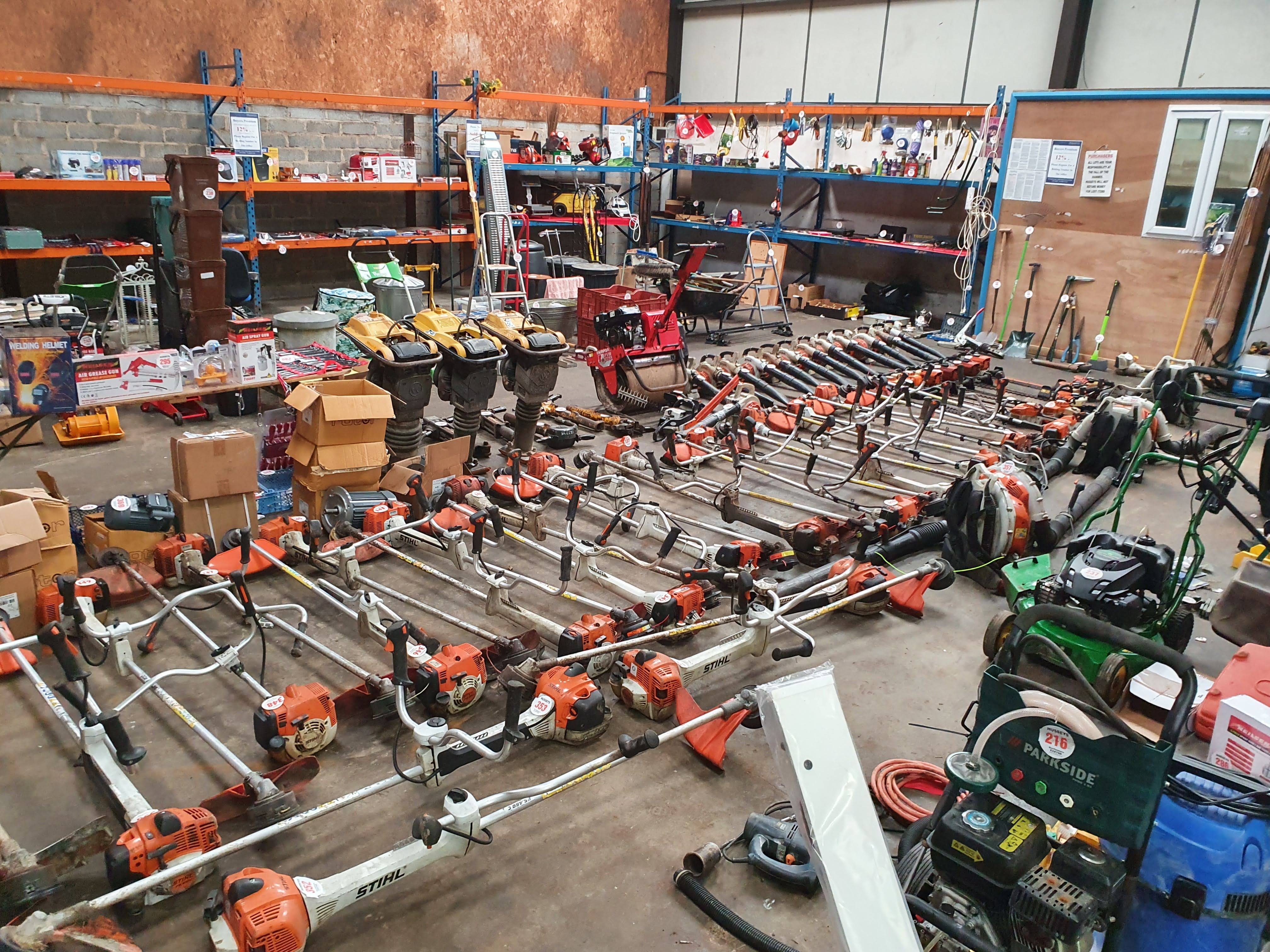 Vehicles:
08/58 Iveco Eurocarge ML75E16 - 3920CC 2dr Flat Bed (White, 326K)
02/52 Daihatsu Hi Jet 1300 16V EFI - 1296CC Pickup (White)
Further Details Soon...

View these vehicles on i-bidder.com
Offsite Lots:
Further Details Soon...
---
Filter Search
Filter by seller:
Filter by category:
Further Entries Invited & Anticipated
All Entries Provisional And Subject To Withdrawal At Any Time.
Unsure how online auctions work? Click here: