Auction Details:
Online Only Auction of Contractors Plant, HGV's, Tools, Farm & Groundcare Machinery
---
Update: Husseys Auction Centre is OPEN - but access is RESTRICTED.
In order to control and monitor numbers on site, access will only be permitted to those with confirmed viewing, collection or delivery appointments.
Please call 01392 425481 to make an appointment. If you don't have an appointment you will not be allowed on site.
Download Husseys' Google Calendar of our auctions
---
1200+ Lots Expected
View Gallery

Bid Now! - bidspotter.co.uk
or
Bid Now! - i-bidder.com
---
Please Be Aware - The Running Order Of The Sale Has Changed!
It's now HGV's followed by large plant & machinery, followed by small plant & tools.
Please ensure you are familiar with the new timings or you may miss items you wished to bid on!
---
Expected Entries To Include
Direct From Local Councils Etc:
Halo 1600 Road Sweeper & Attachments (2016)
Diggers & Machinery Etc:
Takeuchi TB228 Digger 2013, Kobelco 3 Ton Digger, 2017 Kawasaki Pro DX Mule, Massey Ferguson 35 Tractor, Ford 5000 Tractor, Fordson Major Tractor c/w Winch, International Harvester Diesel 414 Tractor 1966 c/w V5, Fergie T20 Tractor, Kubota B7100 Compact Tractor, Ford 4000 Tractor, Pel-Job 1 Ton Hi-Lift Dumper, Yamaha 660 Quad, Kawasaki Mule, Richard Western 14 Ton Tipper Trailer, JCB & Ammann Tracked Barrows, Benford & Terex Pedestrian Rollers, John Deere 1400 Diesel Outfront Mower, John Deere 1565 Diesel c.w Major Outfront Flail, John Deere & Ransomes Triple Mowers, AJC & GroundHog Fast Tow Welfare Unit, 3x Plug & Go Welfare Containers, 30' Office Container, 2x 20ft Office containers, 20ft Welfare Container, Breaker For 13 Ton Machine, Block Grab, Karcher Pressure Washers & Steam Cleaners, Winton PTO Chipper, Kubota G23-2 Ride On Mower c.w Hi Tip Collector, Atlas Copco 200KVA Generator, Brendon Washer Bowser, JCB Diesel Ride On Mower, John Deere, Countax, Mountfield, Honda & Cub Cadet Ride On Mowers, Forklift Tipping Skips, Bomag & Fairport Pedestrian Rollers, Diesel Foward & Reverse Wacker Plates, Main Diesel Bowser, Telehandler Jib, Twin Axle Plant Trailers, Single Axle Box Trailer, Twin Axle Tipping Trailer c.w Swing Lift, 2000 Litre Diesel Tank, Belle Site Mixers, Triple Extending Ladder, Stone Burier, RedRock Silage Grab, Strickland Grab, 7ft Telehandler Bucket, Block Splitters, Rubble Truck, IBC Tank, Wacker Plates, Road Saws, JCB Beaver Packs, Various Digger Buckets, Crowd Barriers, Ricon Access Ramp, Cat 4 Scanners, Stilh & Husqvarna Chainsaws (Some New), Well Pump, Bench Ends, Weld Mesh, Forklift Tines & Wheels, Staff & Bill Hooks, Hydraulic Breakers, Milwaukee, Dewalt, Makita, Hilti & Bosch Power Tools, Long Reach Stihl Hedge Trimmer, Husqvarna & Stihl Disc Cutters, Laser Levels, Viking Garden Shredder, 2x AS531 Petrol Mowers, Jet Flush, Pipe Freeze Kits, Mantis Tiller, Workshop Compressor, Edging Sander, Oregon Chainsaw Bars, Gate Hangings etc.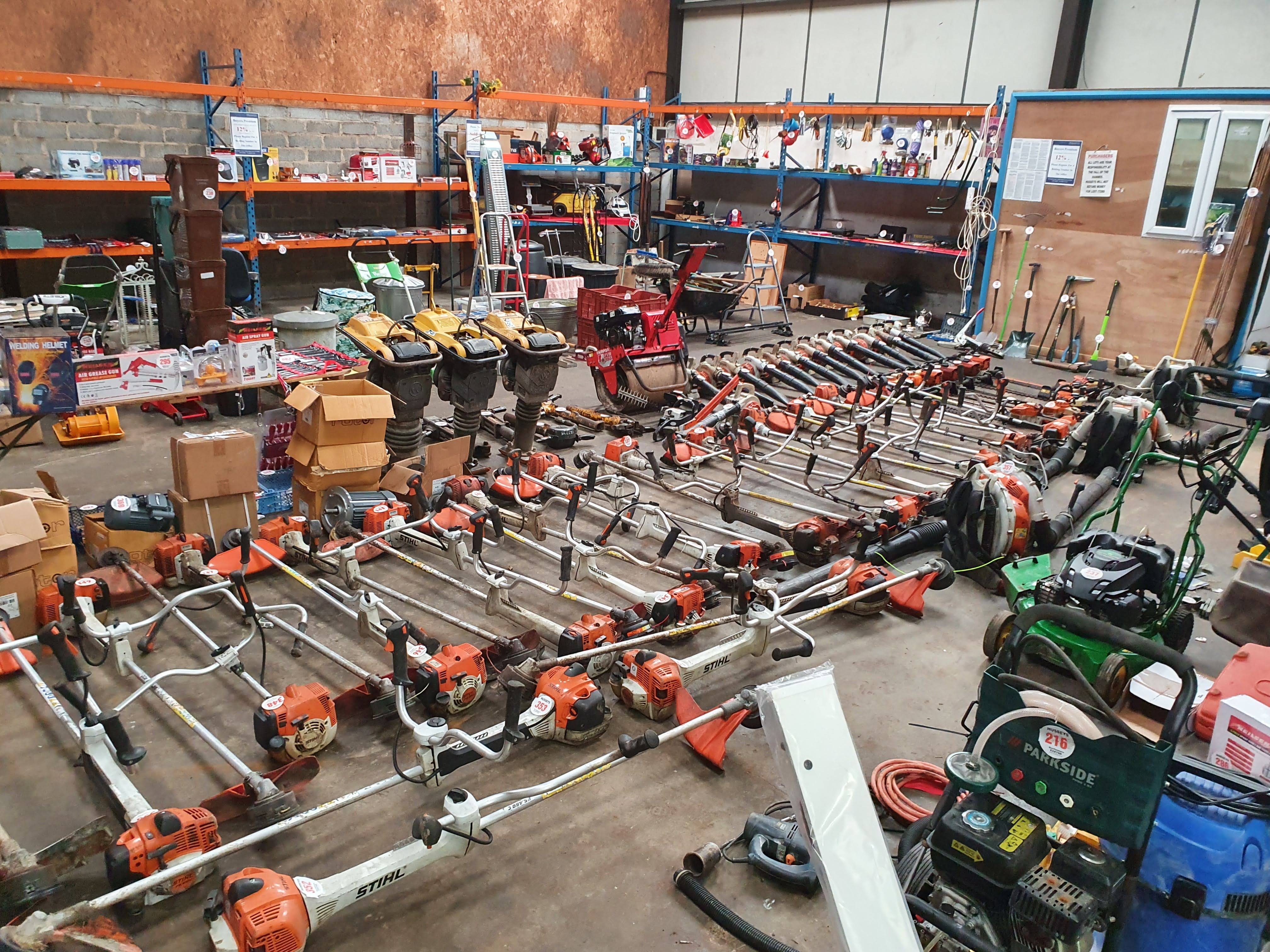 Vehicles:
13/13 Dennis Elite 2 Dustcart - 7146cc (White)
Further Details Soon...

View these vehicles on i-bidder.com
Offsite Lots:
Further Details Soon...
Filter Search
Cormac Solution Items
GAP Plant Items
Plymouth City Council items
Excavators
Tractors
Generators
Trailers
Garden & Outdoor
Further Entries Invited & Anticipated
All Entries Provisional And Subject To Withdrawal At Any Time.
Unsure how online auctions work? Click here:
Guide to Plant Auction additional charges