Auction Details:
Online Only Auction of Contractors Plant, HGV's, Tools, Farm & Groundcare Machinery
---
Update: Husseys Auction Centre is OPEN - but appointments are recommended.
In order to control and monitor numbers on site, we would request that customers call in advance to request a collection, viewing or delivery appointment. Please call us on 01392 425481. Your cooperation is appreciated.
---
1200+ Lots Expected
View Gallery

Bid Now! - bidspotter.co.uk
or
Bid Now! - i-bidder.com
---
Expected Entries To Include
Direct From GAP & Local Councils:
Exhibition Trailer (SWW), Indespension & Ifor Williams Plant Trailers, Ifor Williams Dropside Trailer c.w Ramps, Main Diesel Bowser, Terex Pedestrian Rollers, Vandal Guards, Mini Digger Buckets, Power Tools, Dehumidifiers. Pike Traffic Lights, Wacker Road Saws & Plate Compactors, Lighting Tower Masts, Kawasaki 550 Mule (04), Kawasaki 550 Mule 2004, Kubota GR1600 Ride On Mower 0650hrs (12), Cordless Makita Drill A207, Cordless Makita Drill, Hoover 21, AS Mower, Honda HRH536 Mower, Robin Water Pump, Rover Mower, Stihl Blower, Billy Goat, Sprayer, Stihl Pressure Washer, Allen Mower, Makita Backpack Blower, Hedge Trimmer Spares, Strimmer Shaft, Long Reach Stihl Chainsaw, Echo Strimmer,, Husqvarna Strimmer Spares,, Stihl Strimmer, Echo Strimmer, Viking Mower, Viking Mower, Rover Mower, Bosch Jigsaw, Cordless Maktia Grinder, Box Of Power Tools, Makita Saw, Bosch Drill, Cordless Makita Hammer Drill, Stihl Pressure Washer

Plant, Diggers & Machinery:
JCB 550-80 Wastemaster Telehandler 2018 4100hrs (Direct from a Fleet Due To Upgrade), Doosan DX19 Excavator 2019 1150hrs, Takeuchi TB025 Digger, Bobcat X325 Digger, Terex 6 Ton Swivel Skip Dumper, JCB 3CX Wheeled Digger, Fraser, Fordson Major, 10 Ton Dump Trailer, Titan 8 Ton Tipping Trailer, Sutton Hydraulic Fork Mounted Road Brush, 2 Leg Subsoiler, Unused Grading Bucket & 600mm Bucket To Suit 13 Ton Machine, 2010 Kawasaki Mule, JCB Workmax UTV, Farr 400 UTV 2012, Hydraulic Metal Shear, Catering Trailer, Western Washer Bowsers, SDMO 110KVA Generator, Leyland 154 Tractor, 4 in 1 Bucket, Wacker Plates, Road Saws, Man Baskets, Block Grab c.w Forklift Jib, PTO Paddock Vacuum, Strimech Telehandler Bucket, Club Car Petrol UTV, Iseki SXG326 Diesel Ride on Mower, Portable Toilet, Redband Brick Saw, Pike Traffic Lights, Back Actor, Alloy Access Podiums, Kaeser Fat Tow Compressor, Yamaha Trials Bike, Suzuki SX200 Motorbike, IBC Tank (Had Clean Water Only), 3 Point Linkage Pallet Forks, General Purpose Single Axle Trailers, etc.
Direct From A Deceased Estate: C Force 600 Quad 65 Reg, Kymco 450 Quad 2012, Honda Fourtrax Quad 06, 07/56 Fiat Ducato 35 130 M-Jet MLWB - 2287cc Motor Home
Workshop Clearance: Ingersol Rand Compressor 3 Phase, 240 Volt Workshop Compressor, Builders Trestles, Conveyor, Stephill 10KVA Generator, Kärcher Pressure Washer, Electric Mixer & Stand, Pallet Forks On Rotating Headstock, Engine Crane, Trailer Wheels, Cabinet, Welding Bench, Site Level, Transformers, Van Seats, Power Tools Etc.
Small Tools: Stihl & Husqvarna Chainsaws & Garden Machinery, CAT Detectors, Pressure Washers, Tree Pruners, Dewalt & Makita Mitre Saws, Makita Mag Drill, Enfusion Welders, Snap On Battery chargers, 12/24 Volt Jump Starters, Pick Axes, Shovels, Sledge Hammers, Dung Fork, Pr Of 3.3 Ton Loading Ramps, Magnetic Trailer Lights, Standpipes, Drip Trays, Axle Stands, Sash Clamps, Scythe, Fall Arrest Harness, Disposable Boiler Suits, Hilti, Bosch, Makita, Dewalt & Other Power Tools, Luminscope Beam Setter, Battery Chargers, Testers etc.
FODDER: 200 Conventional Bales of 2021 Meadow Hay (Free delivery within 20 Miles of TQ13 8RP)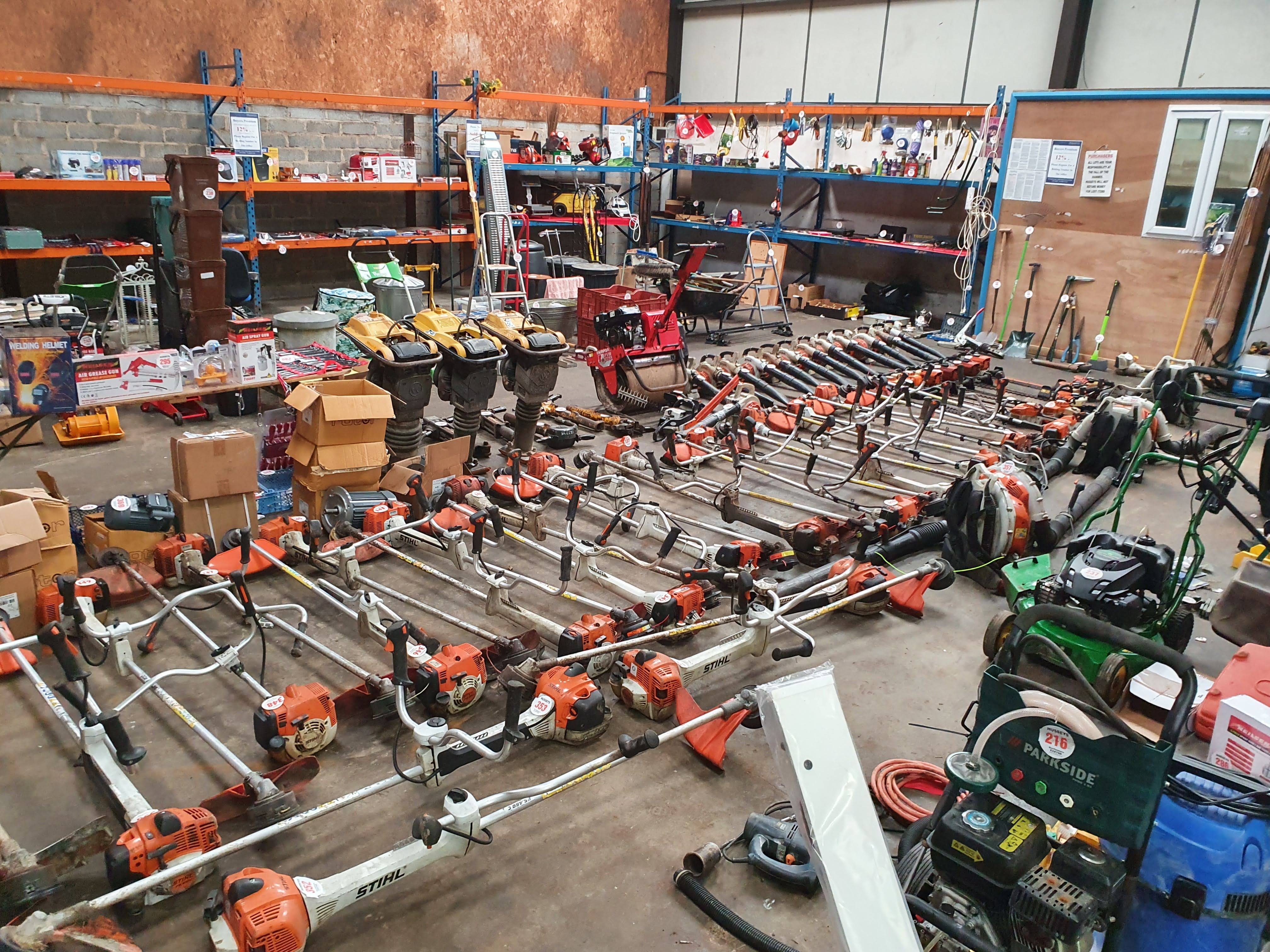 Vehicles:
13/62 Daf Trucks CF - 9186cc 6 Wheel Tipper (White, 381k) (Direct Cormac)
09/59 Daf Trucks LF - 4461cc 2dr Flat Bed (Green, 363k)
09/09 Isuzu Trucks Forward F120.240 - 7790cc Transporter (Yellow)
08/58 Iveco Eurocargo ML75E16 - 3920cc Flat Bed (White, 326k)
08/08 Iveco Eurocargo - 3920cc 2dr Lorry (Red)
07/56 Fiat Ducato 35 130 M-Jet MLWB - 2287cc Motor Home

View these vehicles on i-bidder.com
Filter Search
Cormac Solution Items
GAP Plant Items
Exeter City Council items
Excavators
Tractors
Generators
Trailers
Garden & Outdoor
Further Entries Invited & Anticipated
All Entries Provisional And Subject To Withdrawal At Any Time.
Unsure how online auctions work? Click here:
---
Next Month:
Please Note: December's Plant Auction will be extended by 2 weeks so bidding will close from 11.00am Wednesday 5th January 2022. Bidding for this auction will open early December and will run throughout the festive period. On-site viewing will only be available from Tuesday 4th January 2022.
Further details (in due course): Plant 05/01/22