Auction Details:
Online Only Auction of Small & Large Plant, HGV's, Tools, Farm & Groundcare Machinery
(To incorporate Exeter Car & Van Auction)
Click here for details of Exeter Car & Van Auction
1200+ Lots Expected
View Gallery
View / Bid via
bidspotter.co.uk
or
i-bidder.com
Expected Entries To Include
Direct Council & Utility Entries:
Further Details Soon...

Direct From A Deceased Estate
Yamaha 350 4x4 Quad 2013, Lawrence Edwards Bale Wrapper, Wessex 5ft Topper, PZ Haybob, Drum Mower, Feed Barriers, Ifor Williams DP120 & TA5G Wheels & Tyres, Hay Racks & Troughs, Water Troughs, Ifor Williams Canopy Off Ford Ranger, Flexi Netting, Top Links & Other Farmyard Accoutrements.
Other Vendors:
Due To Loss Of Contract: Cable Drum Trailer, 10x Power Tower Access Platforms.
Also: Bobcat 3 Ton Excavator 2018, JCB JS130 Excavator 2014 4700hrs, Hitachi 13 Ton Swingshovel, 2x 1 Ton Hi Tip Dumpers, McCormick 105 Tractor c/w MXU8 Loader 2008 5500hrs, Manitou MVT665 Telehandler 2005, McCormick MTX140 Tractor (04), Merlo P27.7 Telehandler, JCB 2CX Extradig Wheel Digger c/w Back Actor 3 Buckets & Spare Wheel 4000hrs 2000, John Deere 4040 4WD Tractor, Marshall 802 Tractor, Thwaites 8 Ton Swivel Skip Dumper, Bobcat 630D Skid Steer Loader, Case 1835B Skid Steer Loader, Bitelli BB730 Paver 2007, Thwaites 6 Ton Dumper, Benford 3 Ton Dumper, Manitou MLT629-120 Telehandler 2001, 3500hrs, John Deere 2WD Tractor, Barford 6 Ton Dumper, Fordson Super Dexta Tractor, John Deere Gator (15 Plate), Polaris Diesel Ranger (2011), John Deere 440 2WD Tractor, Kubota L4150 Cabbed Compact Tractor, Jensen 750 Contractor Wood Chipper, 2017 Stiga Outfront Mower, Iseki TC11 4WD Compact Tractor c/w Rotavator, Farr Quad, Spring Tine Cultivator, PTO Saw Bench, Welgar AP45 Conventional Baler, Drain Camera, Jappa 700 Wood Processor c/w Elevator & Spare Blade, 2x Diesel John Deere Gators, John Deere 455 Ride On Mower c/w Collector 1200hrs, 2 Cub Cadet Utility Vehicles, 2x Jacobsen LF3800 Diesel Mowers,Husqvarna Outfront Mower, Hayter Triple Ride On Mower, 6 Wheel John Deere Gator, Petrol Golf Cart c/w Tipping Back, 2 Petrol Go Carts, Apache AGG1600 Dbl Axle Electric Tipping Trailer For ATV/ Compact On Floatation tyres, Winches, Forklift Tipping Skips, Alloy Scaffold, Digger Buckets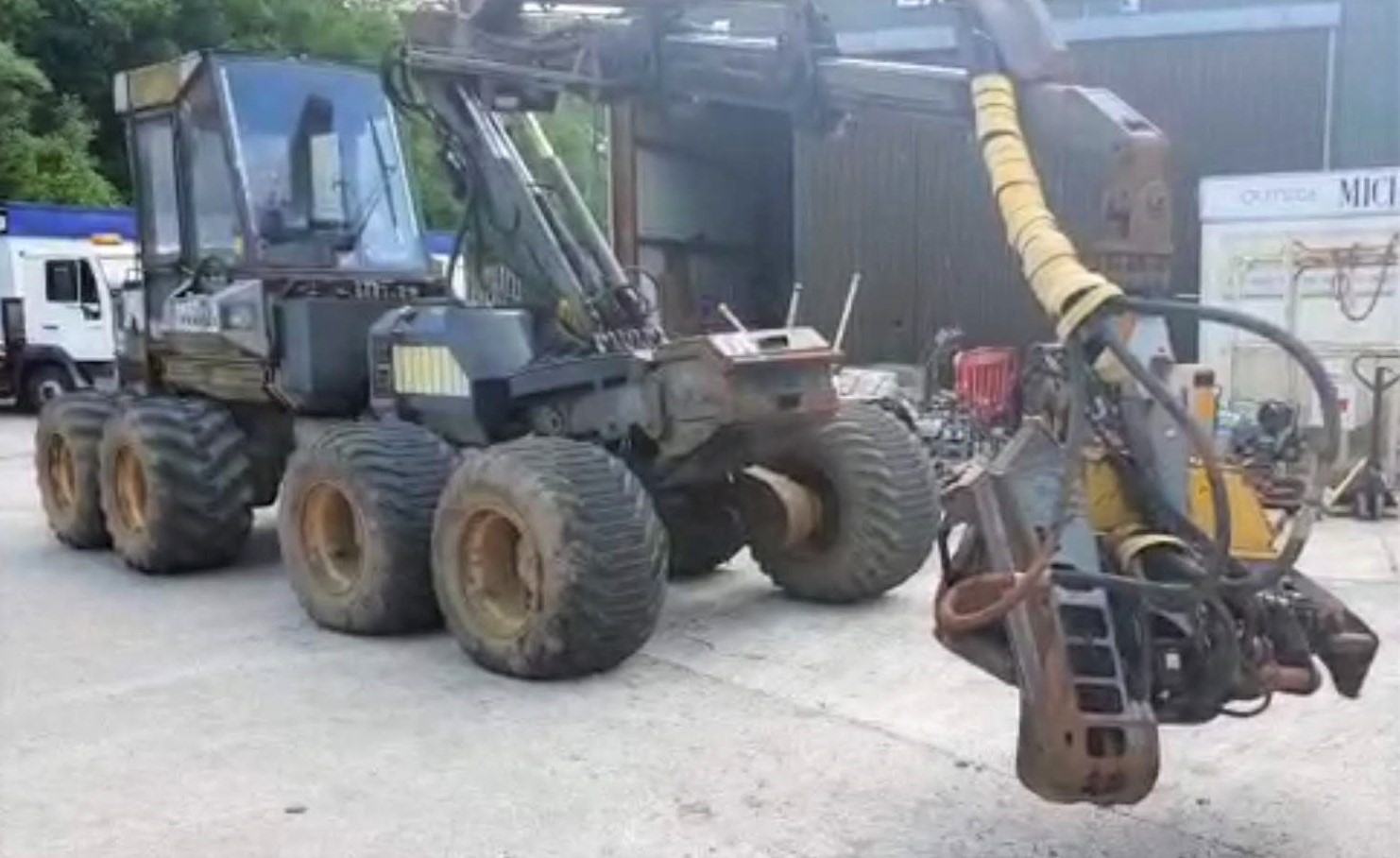 Ponsse HS 10 Harvester (Video above)
In The Shed:
Direct From Dartmoor National Park: 10 Stihl Hedge Trimmers
Also: A Full Range Of Hand & Power Tools, Garden Machinery, Tarmac Plates, Breakers & Accessories. Mobility Scooter c/w Rain Cover, Garden Furniture.
View items from Dartmoor National Park

Vehicles:
Direct From South West Water:
11/61 MAN TGX 26.480 Tractor Unit (Subject to confirmation)
05/55 Daf LF 45.150 7.5T Tanker (117k km)
03/03 Volvo FL220 18T Tanker (291k km)
Also:
11/11 Iveco Daily 50C15 - 2998CC Diesel Cherry Picker (115k)
11/61 Iveco Daily 50C15 - 2998CC Diesel Cherry Picker (93k)
09/09 Isuzu Forward N75.190 - 5193cc Dropside (169k km)
08/58 Daf Trucks Scarab Merlin Road Sweeper - 4461cc 2dr (White, 101k)
08/58 Daf Trucks Scarab Merlin Road Sweeper LF - 4461cc 2dr (White, 90k)
2008 Mitsubishi Fusion 7.5 Ton Plant Lorry
08/08 DAF CF.75.310E 26T Crane Lorry (362k km)
07/07 Iveco Daily 35C18 LWB - 2998CC 2 DR Dropside
07/07 DAF FA.55.250 18E 18T Terex Atlas Brick Grab (374k km)
05/55 Renault Premium 26T Beaver Tail - 11116cc 2dr (Gold/white, 496k)
02/52 MAN LE150 C Beavertail (249k)
02/52 Isuzu NQR 70 Crane Lorry (319k km)
The following light commercials are availiable in Wednesday's Car & Van Auction:
11/11 Peugeot Bipper SE HDI - 1248cc Van (White, 94k)
08/08 Fiat Doblo Cargo Multijet 16V - 1248cc 2dr Van (White, 156k)
06/56 Renault Trafic SL29 DCI 115 - 1995cc 4dr Van (White, 168k)
94/L Land Rover 90 Defender Turbo Dsl - 2495cc 4dr 4x4 (Blue, 149k)
Filter Search

Further Entries Invited & Anticipated
All Entries Provisional And Subject To Withdrawal At Any Time.
Unsure how online auctions work? Click here:
Bid via bidspotter.co.uk