August 2021 Plant Auction Report
The August Plant & Machinery sale concluded with 400 keen bidders registered from across the United Kingdom & Ireland, as well as our friends overseas in Cyprus, Poland, Latvia, Czech Republic & Zimbabwe as well as on old friend of the firm residing in Greece.
In keeping with the spirit of making hay while the sun shines top of the sale was a Ford 7840 4WD Tractor complete with a Chilton MX6000 Loader which made £13,800 followed by a JCB 8025 Digger to £10,400 going to same home. Also keenly sought after was a XAMS 496 CD Compressor which made £5,700. Welfare Cabins this month peaked at £5,500 for a Groundhog GP360 Unit followed by one of the smaller Plug & Go Cabins at £1,060. Reserves being smashed by a well looked after Equi Trek Show Trek Horse Box more than doubling the reserve & finishing at £4,400 & a non-running John Deere 3245C 5 Deck Mower surpassing its owners expectations & more than tripling reserve reaching £3,600. Plant Trailers this month making £1,860 for an Ifor Williams 3.5 Ton followed on by £880 for an Ifor Williams Twin Axle & £800 for an Indespension 8x4 Plant Trailer. Meanwhile a council entered Schmidt Sweeper topped at £1,620 & a local vendor's Massey Ferguson 825 Vineyard Tractor got to £1,520. Following on from the John Deere topping the mower trade was a Stiga Park Outfront Mower at £1,020 & a Lawn King Ride On & a Husqvarna 4WD Outfront Mower both finishing at £880.
As for the smaller lots topping the sale was a Stihl 079AV Chainsaw complete with a Planking Mill at £400 followed on by a busy entry of Stihl TS410 Disc Cutters topping at £290.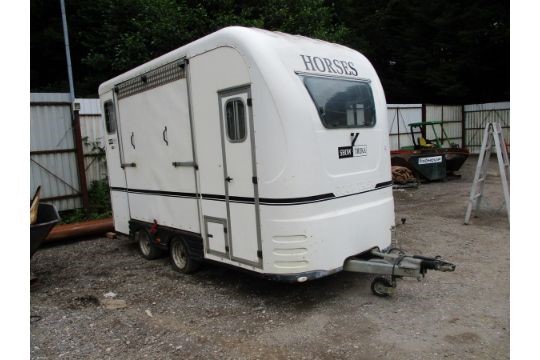 The September sale is fast approaching, early entries to include a Ford 3000 Cabbed Tractor, JCB Mini Digger, JCB JS130 Excavator, Barford 3 & 6 Ton Dumpers, Car Transporter Trailer & 2018 Kioti UTV with further entries being invited, please contact the office for more information.