February 2022 Plant Auction Report
A huge entry of nearly 1300 lots taking us over the 3000 lots of Plant & Machinery sold this year so far. Top bid of the day was £38,000 for a JCB Wastemaster Handler, just below the vendor's wishes… there's asking & there's marrying! A council entered Kubota F Series Outfront Mower made £13,600 some £4,000 over reserve. From the same good home a Jensen A540 Wood Chipper went to Yorkshire for a massive £8,900. Staying local at £7,250 was an uncabbed Hitachi EX25 Digger, while parting at £6,100 was a Wessex T430 Hedge Trimmer. Welfare Units peaked at £5,500 & Compact Tractors to £4,600 for an Iseki. Sweeping up the interest was an Amazon Groundkeeper which levelled at £3,400. The pick of the UTV's to £3,000 for a Farr 400, while the best of the trailers this time made £2,100 for a Bateson Flatbed. Whilst all the above was happening a bidding war had commenced for a Belle Hydraulic Breaker Pack, which if one was to go on like a broken record about breaking records would surely be a contender at £1,600, a connoisseur of the Plant Auction world who has been attending auctions all over the country for some 20 years said it was the dearest he's ever seen & retails the same item for three figure sums. All the construction machinery has excelled in price with plenty looking to secure machines. After an absence of portable biscuit huts for months we had two which after a mad amount of interest sold for £250 each. A wise man from the English Riviera set sail late Wednesday to collect the boat he bought for £410, the other boat seemed to of run aground with nobody willing to part with a pound! Another good clearance of the small tools with most lots selling.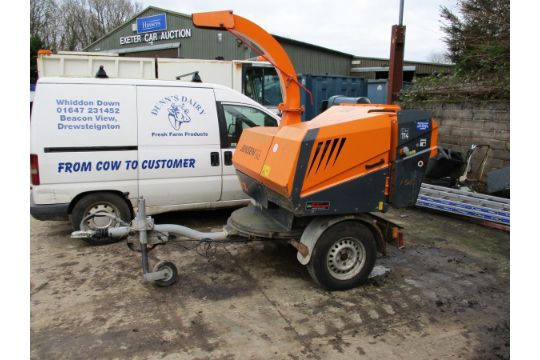 There's a bumper crop in the yard which I must go now & start lining up for the next sale to include a Case 580K Turbo Wheeled Digger, Gas Forklift, 6 or so Plant Trailers, a trio of Washer Bowsers, Water & Diesel Bowsers, Herras Fence Panels, Honda TRX 450 Quad Bike, Kubota UTV, Traffic Lights, Access Towers etc, who would of thought we were still in kipper season?!