Record Month For Husseys Selling £550,000 Worth Of Plant & Machinery
The seasonal chill of late January was warmed up with fierce bidding as the sale commenced with the Lorries. The two stars of the show were council entered, being a 65reg Johnston Sweeper attracting attention all over the UK with enquiries from overseas as well, which eventually got knocked down for £68,000. The other star lot was the 64reg Iveco Stralis Plant Lorry with Fassi Crane from the same fleet which sailed an impressive £23,000 past reserve and settled at £60,000. The round figure of £25,000 exchanged for a 2015 Case 13 Ton Swingshovel from a Dorset based company. Also exceeding £20,000 was a 2013 JCB 531 Loadall Handler which ended at £20,200 being £7200 over reserve. An Irish buyer snapped up a 2013 Daf Tipper Lorry for £17,250. Wheeled diggers hit £12,200 for a 1995 JCB 3CX Site master Turbo from a delighted company who had a respectable depreciation on the machine of £83 a month for time they owned it. A trade entered JCB 3 Tonner was cashed for a pleasing £10,700 while Takeuchi mini diggers sold like hot cakes with a TB216 reaching £8,150 and a TB016 at £6,750 with an older example at £5000. This sale saw a wide variety of rollers under the hammer which peaked at £7,600 for a Bomag BW120 twin drum with declared drive issues which was pushed by a Slovenian who was strong on all the twin drum rollers and remains in search. Pedestrian rollers peaked at £1175 for a single drum Bomag while Terex MBR71s regularly made it upwards of £800. Vendors were grinning like Cheshire cats including a local chap who entered a 2011 Boss welfare unit which romped on thousands past the reserve and was finally knocked down for £6,300 to an end user. Dumpers sold to £5,500 for a 10 ton Terex with a Wacker Neuson 1 Ton at £4,750. The best of the UTV's sold for £5,050 for a Polaris on a 14 plate. Making the pilgrimage to Forfar, Scotland was a John Deere Compact Tractor with a price tag of £4,500, a good example of the strength of the internet following we have. Another being a pallet of drive over mats being approx 30 on the pallet the yard bidders started at £50, by the time the call was £80 the internet had gone into melt down and had reached £1860, the lot was sold in the end for £2440!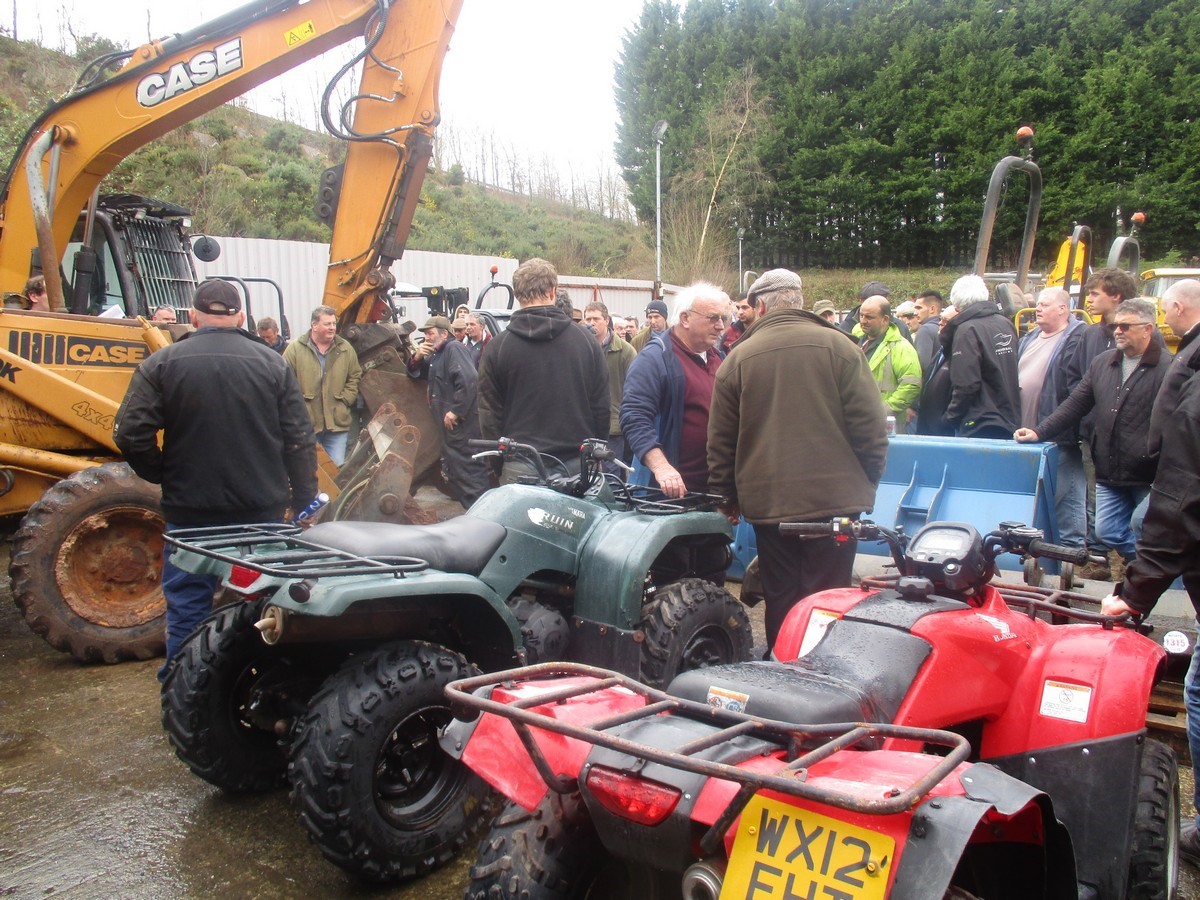 The total number of buyers registered online stood at 403 with a further 300 for the small tools on the Friday as well as120 registering on the day. The January plant sales have turned over an auction centre record £551,000 for Husseys being a quarter of our annual projected turnover for plant in 1 month!
We have several entries already to hand for the February online sale including a fleet of 6 x 2014 Bomag BW80 Twin Drum Rollers due to upgrade, 4 x 2013 Ransomes HR3806 Cabbed Ride On Mowers, 2010 IHI 2.5 Ton Mini Digger (2200hrs), 2013 Polaris Ranger Diesel, New Holland Compact Tractor, Renault 106-54 Loader Tractor, David Brown 996 Tractor, 5 Ton Kubota Excavator, Bitelli Paver, Fast Tow Harben Jetter, Ifor Williams Mini Digger Trailer, Tower Lights, Snow Plough, Pallet Forks, with a fleet upgrade subject to availability of 3 Tractors being a 2012 John Deere 6330 Premium, 2006 John Deere 6230 Premium and a 2002 Massey Ferguson 4345. As well as a dispersal sale of garage equipment in Exeter. Further details closer to the time and further entries welcomed.