July Plant Sale 2019
The sun shone over Husseys' July Plant sale with a blistering hot trade to match. With 580 buyers registering online as well as around 100 in person attend the yard. Top call of the day was made online for a 66 Plate Peugeot Boxer Motor home selling for £34,000.00, heading up North to Preston. Highest price in the yard was £10,900 for a 2013 Lewis Badger Backhoe Loader, a price matched by a 2012 Hitachi ZX29U with others at £10,800.00 & £10,300.00. Other Diggers sold to £9000.00 for a Volvo EC27C with Takeuchi TB125s making £7800.00 (2007) & £7250.00 for a 2006 model. Top money for the pick of the six tractors was £8500.00 for a 1994 John Deere 6200 Loader Tractor in off-farm condition. A smart Massey 135 without cab sold to a massive £5200.00 plus VAT making the purchase total the other side of £6500.00!
A straight local Ford 3000 made £2550.00 and not far behind at £2500.00 was a 4 Cylinder Ferguson FE35. Following plenty of interest the rollers ran away to £7750.00 for a 2013 Bomag Twin Drum, with a CAT of the same year being knocked down for £7300.00. Pedestrian Rollers topped out at £1160.00 for a Terex MBR71 from a local hire firm....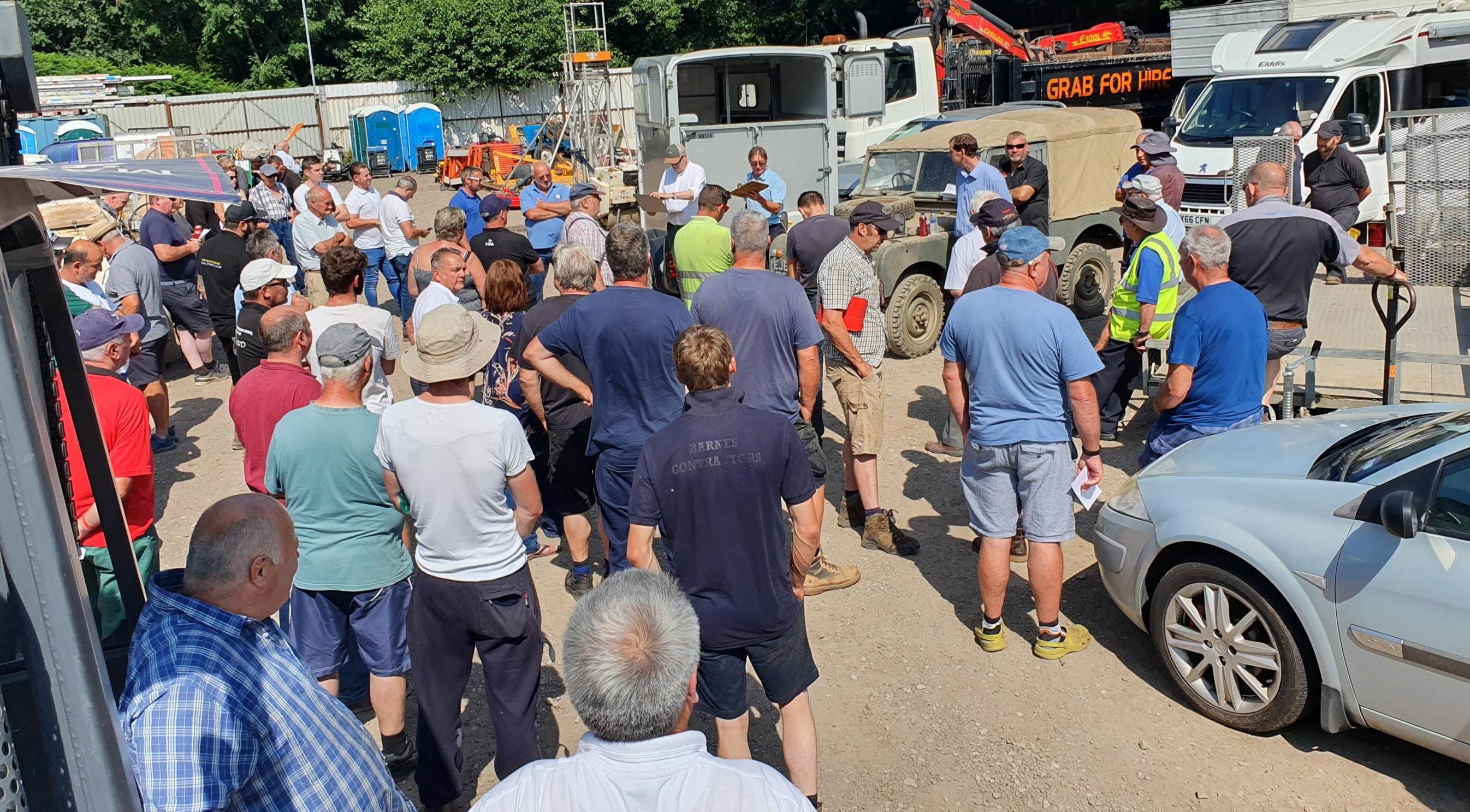 End users were out in force catching the eyes of the Telehandlers with an aged JCB 527-67 Loadall reaching £6600.00 and an outlying CAT TH82 of 1995 trading at £6000.00. John Deere Gators were in much demand with a 66 Plate selling online for £6600.00 with a 2013 at £4500.00 and 7 other UTVs making 1750.00-3200.00. Other Council Entries sold to £4000.00 for a 1994 Thwaites 4 Ton Dumper with Chipping Spreader attached, Hi Lift Thwaites 1 Ton Dumpers made £3300.00 & £3100.00 was given for a Benford 6 Tonner. Also exceeding expectations and finishing up at £3300.00 was a smart Atlas Copco Compressor with low hours. A Fresh batch of Kubota Outfront Mowers Sold to £3250.00, £3150.00 & £3000.00 with run of the mill ride-ons anywhere £250.00-£1600.00.
A Honda TRX500 Quad parted for £2800.00. Trailers Peaked at £2300.00 for a 14ft Ifor Williams Twin Axle with other plant Trailers pushing up towards £1000.00 on several occasions. Pedestrian Mowers reached £820.00 for a Ferris with Etesia & Hondas Both making £120.00. Best of the Belle Site Mixers came straight off hire to make £700.00, 625.00 & 480.00. With Wacker Plates form the same home to £660.00 & £560.00.
A large entry of small tools for the Friday online sale sold to a wide audience with plenty of overseas buyers following Husseys now on a regular basis. In total 1303 lots changed hands resulting in another pleasing day for everyone concerned.
Our next plant auction is on Thursday 22nd August. This one's online only so you can bid from home and come along afterwards to collect your winnings! The next Live plant auction is on Thursday 26th September at 11.00am at our site in Exeter. We look forward to seeing you all there then!