ONLINE PONY AUCTION 2021
After an absence of nearly 14 years in the equine world the young team at Husseys joined forces with The Friends of The Dartmoor Hill Pony to hold an online auction for the ponies from the Widecombe side. All lots entered were presented micro chipped and passported with the majority of the entries coming off the commons adjacent to Widecombe. Stepping into the unknown with an online pony sale Husseys have been proactive in vetting buyers which required details of their holdings where the ponies would end up along with vet details and £100 refundable deposit, any non-compliant registrants were declined the opportunity to bid to ensure the ponies didn't end up in the wrong hands.
Early bids and page views indicated there was a massive level of interest for the 72 ponies catalogued.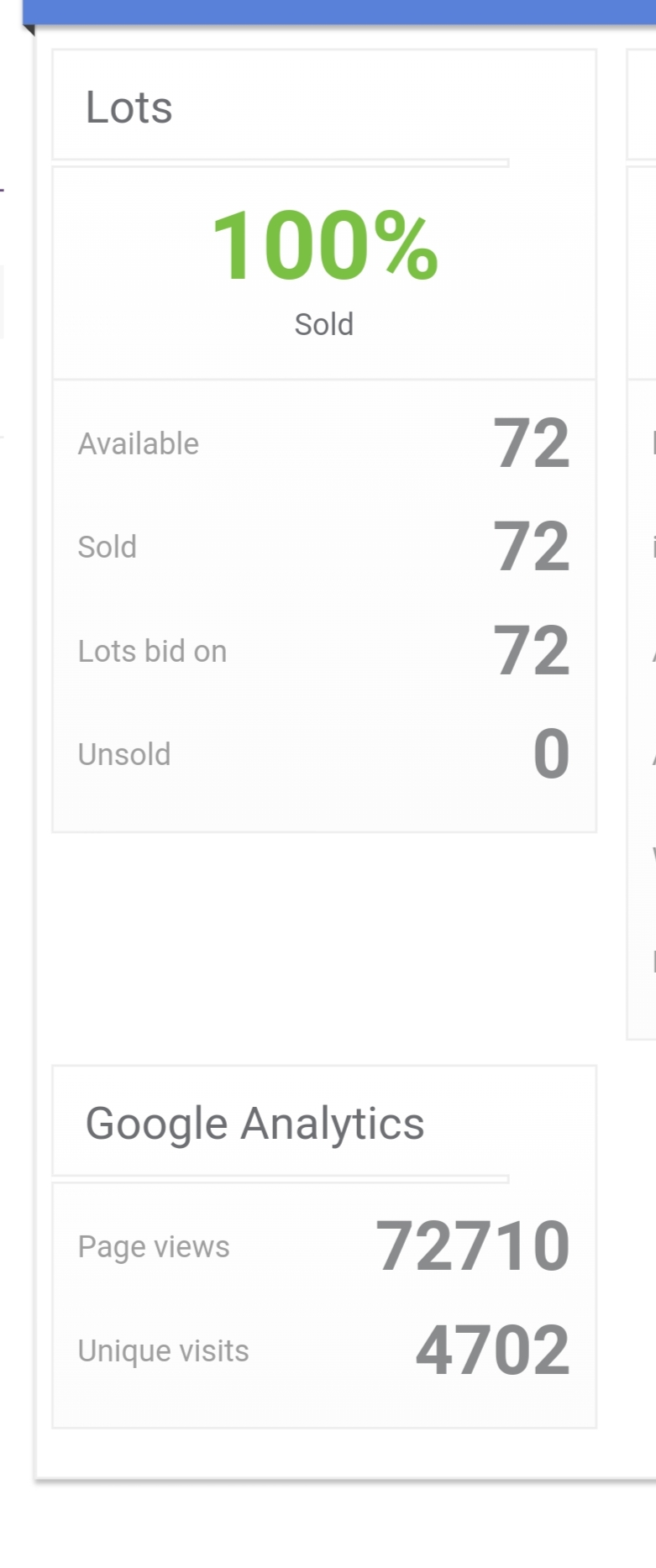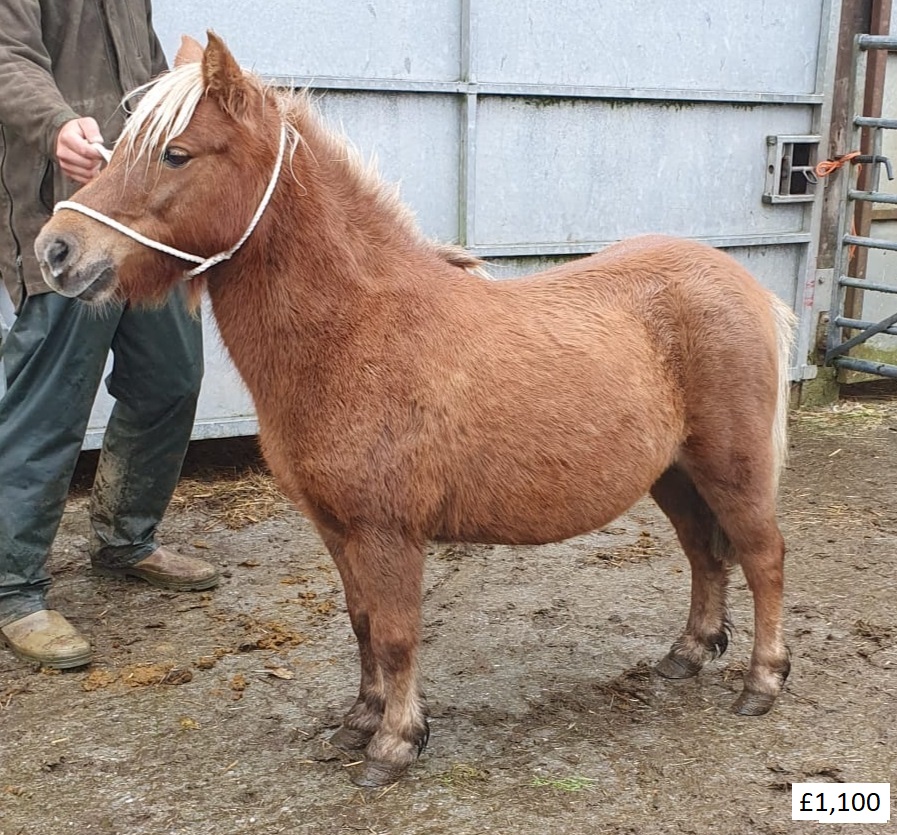 The sale got off to a flying start with the top price coming from a sweet Shetland mare from Angus Mortimore who had been running on Chagford Common which trotted onto a huge £1100. She goes to the red soils of South Devon to blend in as a companion to a sports horse. Another four figured surprise came via Paul & Vicky Pearse's registered bay Dartmoor Filly which is staying local for £1040. Another four made £500 or over the next top being a Dun Vixen Tor Filly of Mary Alfords which made £600, Mary sold other fillies to £300, with her Colts topping again for a dun at £250. Cator Honey an 18 month old Chestnut filly was up in the money at £560 and one bid behind was Gill Lavers much admired Dartmoor filly that had come in on the drift from an adjacent common and exceeded all expectations at £540. No less than 38 people had Batworthy Viceroy a spotted four year old gelding on their watch list which eventually made £500 for Ann Williams of Corndonford. Several ponies sold at £3-400 including Runnage Dinky who suffered an injury as a young foal and was cared for by the Friends of the Dartmoor Hill Pony, Dinky kept having last minute bids and sold for £330. Another result for the Chinkwell herd was Lady Grey a filly that made £370. A dun yearling colt from the Foxworthy herd achieved £340. The Fursdon family supported the sale with their Blackator bay fillies topping at £270 and £250 twice. Two foals on offer from the Sherril Herd made £400 for a piebald filly and her mate the colt made £150. Another sought after prefix was the Mann's Great Dunstone ponies with a yearling colt achieving £220.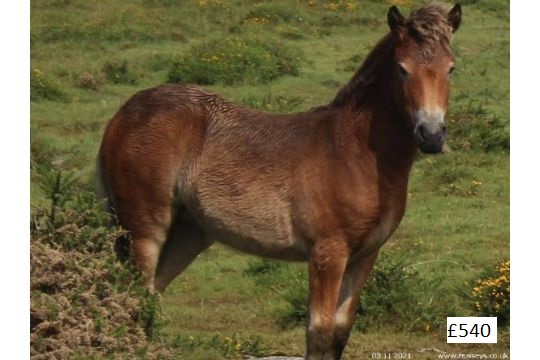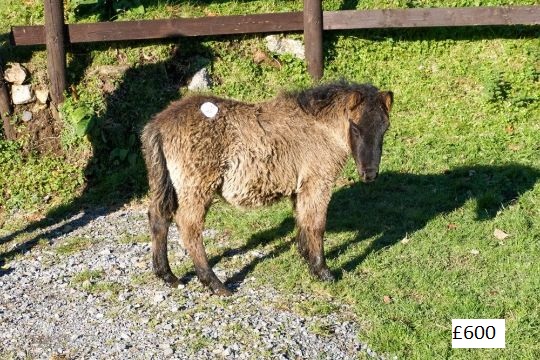 Averages:
Mary Alford's Vixen Tor Herd: Top £600, fillies ave £288 & colts £225
Cator Herd: Top £210, 4 colts Averaged £117.50
Chinkwell Herd: Top Grey Filly £370, Colts Ave £96
Great Dunstone Herd: 4 Dartmoor colts Ave £105
Foxworthy Herd: Dartmoor Colts Topped £340 to Ave £168, Fillies £210
Fursdon's Blackator Herd: Bay Fillies Topped £270 Ave £256, Colts £112.50
Gill Lavers: Dartmoor Filly £540
Leigh Tor Herd: Dartmoor Fillies Ave £153 & Colts £106
Angus Mortimore: Shetland Mare Topped £1,100 Ave £710
P&V Pearse: Registered Dartmoor Bay Filly £1040
Sherril Herd: Piebald Filly £400 & Colt £150
Mrs A Williams: Spotted Gelding £500
Overall Average £226.50
Congratulations to vendors, purchasers and all the staff involved especially the behind-the-scenes workers who devoted so much of their time to making the sale a huge success, all the ponies entered have found loving homes.